Do you only think of gravel and cactus when you hear the words Xeriscape?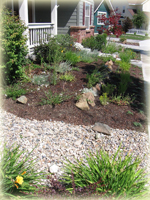 Xeriscaping, or gardening with little water, has been around since the time of Aristotle. The Greeks, who lived in a semi arid climate without electricity to move water around, knew they had to both conserve water for the general populace as well as for food production. They invented aqueducts to transport the precious fluid from source to destination and were very conservative.
Fast forward to the twenty first century and those of us living in the Treasure Valley of Idaho are quickly becoming aware how vital it is to begin to embrace the xeric concept. With uncertain precipitation futures several communities have had their water supplies cut drastically and are wondering how to cope.
Here's where Habiscapes can help you…first by evaluating your current landscape's consumptive appetite and next by offering you a series of options to reduce or replace consumptive turfs and/or plantings. As our gallery attests to, our xeriscapes can be quite striking in appearance while helping to reduce your water needs and associated costs. We will make the appropriate recommendations based on drought tolerance, irrigation and maintenance needs and ensure that our designs are fire wise as well. All of our sustainable plantings are nature friendly and typically attract birds, bees and butterflies.
Habiscapes can re-design your yard and can assist you to obtain permission from your local HOA to make the conversions necessary to create a sustainable landscape that both blends with the current community setting and complies with the standing CC&Rs.
So before you spend another year battling the irrigation restrictions and losing some valuable vacation time and money, call Habiscapes for a free consultation today!
Here is what one customer said about their experience with Habiscapes and going Xeric
We honestly cannot say enough great things about Michael and the whole crew at Habiscapes. We contacted Michael in December of 2012 to get everything planned out and talk through potential ideas for what we could do with our firepit and backyard area. At the time, my wife and I really didn't have much of an idea about what we wanted done, only that we wanted to get things looking nice and add some significant xeriscaping. We had done some research regarding providers in the Boise area and, after talking to some co-workers, decided to have Michael out and see what ideas he had.
During our first meeting with Michael, we quickly knew that Habiscapes was who we wanted to do the work on our house. He came prepared with a multitude of ideas and materials to help guide us through the design process and come up with an overall design that we really felt confident about.
The first thing Michael and his team got to work on was the firepit area. Our plan was to keep only our original firepit tank, and have Habiscapes redo the fire ring, the patio around it, and build a retaining wall on the back side facing Boise. From the first day Michael and his crew arrived on site, we were very impressed with their work ethic and attention to detail. Nowhere was this more notable than in the work they did on the firepit, patio, and retaining wall. We ended up using a combination of flagstone and pavers and the attention to the detail in their work was absolutely amazing. Our backyard area is on a hill overlooking the city and the patio shape we ended up going with was a more natural shape requiring a significant amount of cutting and also leveling of the surface. In the end, the patio and firepit area we received far exceeded even our admittedly high expectations.........we were blown away!
As the firepit/patio area took shape, we began to think more about the design of the overall rest of the backyard around it. Originally, my wife and I had pictured some small xeric areas worked in with the grass, but as the design began to take shape, Michael felt like we could go with a full-on xeriscape for our entire back yard, and we agreed. Work began on the backyard a few weeks later and, again, we can't say enough about the quality of the work and the attention to detail. For the backyard area, we totally relied on Michael's design expertise and he delivered. Although we were using his design, he and the team were still untra-flexible and could quickly turn on a dime to make changes that we came up with as we worked through the process. in the end, once again, we have a backyard area we never dreamed of and that we couldn't be happier about. We liked everything so much that we had the team back last week for some additional work on the front of our house and, again, we are ecstatic about the work.
Bottom line is we both believe there is no one who could have provided us with a product even remotely close to what Michael and his team have done. If you are looking for the highest quality work, attention to detail, design expertise, and just overall pleasant folks to work with, you could not do better than Habiscapes. We look forward to Michael and his team coming out again next year to work on the side sections of our yard, the only spots that have not yet been Habiscaped.
~Traci (Boise, ID)